The Story Behind diTota.com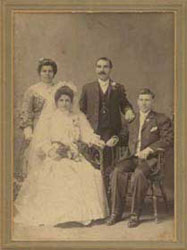 The story of this Web site actually dates back to the mid-1970s, long before Internet technology provided the tools for worldwide collaboration and communication as we have come to know them today. At the time, the author of this site was a high school student in central Connecticut. For those of you who may be visiting this site from outside the United States, Connecticut is located in the northeastern United States, just 90 minutes northeast of New York City.
A third-generation American, the author shares both Italian and Irish heritage, but was especially close with his maternal grandmother — one of the first American-born descendants of a di Tota family from Campobasso and part of a large and growing extended Italian-American family.
Louise Ditoto was born 18 January 1911 at Waterbury (New Haven County) Connecticut. She was the eldest daughter of Domenico di Tota and Anna Orsatti, both of whom emigrated from the province of Campobasso, region of Molise in southern Italy to the United States shortly after the turn of the 20th century.
The wedding portrait above right shows the authors great granparents, Italian immigrants Domenico di Tota (born 18 May 1884 at Campobasso, Campobasso, Molise, Italy) and Anna Orsatti (born 28 Feb 1891 at San Giovanni in Galdo, Campobasso, Molise, Italy). The couple were married on 10 May 1908 at Waterbury in Our Lady of Lourdes Church by the Rev. Valentiero Roverato. Church records show Carmine Santoro and Lucia Ciarleglio as sponsors and several family members confirm these are the other people appearing in this photograph.
Through more than two decades of research, it has been learned that some time after his arrival in America, Domenico adopted the Americanized version of his last name and his descendants now carry the last name of Ditoto. In addition to Ditoto and Di Tota, this site also considers Di Toro, Ditoro, Di Tato, Di Diddo, Dididdo, Di Dido, Didido, Di Dato, Di Taro, Di Tola, De Teta, Di Cota, De Cota, and other similar surname variants. It is not certain whether individual entries are incorrectly transcribed name or a unique surname with a separate origin and history. For that reason, all variations are included in an effort to help others who may be researching similar family lines.
Learn more about changing Italian surnames and why your ancestor may have done this.
Long Term Goal for this Webs Site
It is the authors long term goal to document the various di Tota families that settled in North America and connect each back to their roots in Campobasso, Italy. Whether your family retained the original 'di Tota' spelling or not; whether they settled in Connecticut, New York, Ohio, Maryland, or elsewhere; please contact me to share details of your personal connection to the di Tota families of Southern Italy. Also — please forward news of this site to others who may be researching Italian immigration to America or Italian emigration from Campobasso. You may also find it helpful to learn more about New York Passenger Lists in general as you research your Italian heritage.