Italian Surnames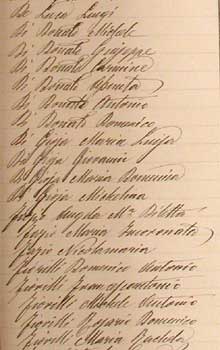 In addition to research on the di Tota family of Campobasso, a great deal of research has been done on other Italian surnames originating from the same general region of southern Italy. The majority of the names listed below are, in some way, connected with descendants of the di Tota family that eventually settled in Connecticut, but certainly these names cover a much wider geographic area.
For more detail, click on a name if it appears underlined below or if it appears on the menu along the left side of the page. If you have additional information on any of these or other Italian surnames you'd like to share for the benefit of others, please contact us at your convenience.



di Tota


Ditoto


Di Cesare / De Cesare


Gianfagna


Orsatti


Pietrunti


Palange


Santoro


Tartaglia


Tretelange


Villano
If you are interested in seeing a visual concentration of surnames in Italy today, there is a very clever Web site (written in Italian) which will allow you to map surnames in Italy. Using this link, enter the Surname (Cognome) in the box at the upper left of your new browser window and press enter.